Number 44
2020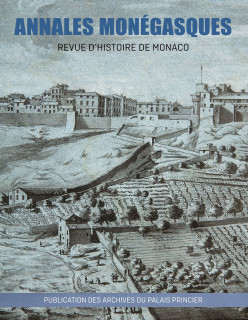 Summary
Prince Honoré III was born three hundred years ago, in 1720, , and reigned over the Principality for sixty years, from 1733 to 1793. An Art History article pays tribute to him through the study of portraits realized by a rediscovered painter named Marie-Anne Loir, whose work is a part of the Palace collections.
The continued restoration program of the Renaissance frescoes of the palace generated a study and a strong iconographic file on Ferdinand Wagner, a painter from Augsburg recommended by the Count of Württemberg, brother-in-law of Prince Charles III, who restored and created a part of the painted decorations of the Cour d'Honneur of the princely residence in collaboration with two other German painters in the years 1860-1870.
The mythical book of Prince Albert I, whose centenary of death will be celebrated in 2022, La Carrière d'un navigateur, has never been studied. The first edition of the book, which is a collection of autobiographical narratives, published in 1902, was preceded by the publication of articles from 1888.
Princess Alice, second wife of Prince Albert I, got known to a certain social, artistic and literary background, quite representative of European society at the end of the 19th century. In particular, she forged relationships with Oscar Wilde, Pierre Loti, Margaret Brooke, Frank Harris, Isidore de Lara, who are still known today or have fallen into oblivion...
The appointment of a new Archbishop of Monaco at the start of 2020 is an opportunity to examine episcopal heraldry in the Principality from the end of the 19th century. Symbolic representations obeying codes from the Middle Ages, ecclesiastical coats of arms are intended to reflect the personality, origins, or pastoral program of their bearer.
Contemporary history is evocated through a figure from the early reign of Prince Rainier III, Martin Dale. In 1960, this twenty-eight-year-old former American diplomat was appointed private advisor to the sovereign, responsible for attracting investment from across the Atlantic to the Principality and transforming it into a financial center of international stature.
The Franco-Monegasque crisis of 1962-1963 has slowed down the reform momentum. Martin Dale is accused of privileging American interests to the detriment of France. Despite pressure from General de Gaulle, he continued his mission until 1964.
In this time of COVID-19 pandemic, the "document of the year" section takes us back to 1656, when the baroque and brilliant Queen Christina of Sweden, who came from Rome, wanted to make a stopover in Monaco, while the plague was raging in Italy. The sanitary precautions and the political prudence of Prince Honoré II led to the envisaged stage being only a passage at sea, the story of which is kept in the archives of French Foreign Affairs.
Text in French
Read more
Réduire
Security policy
Delivery policy