Number 43
2019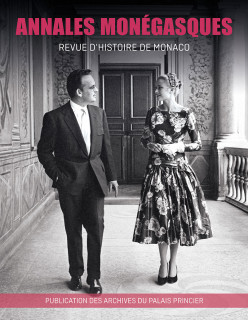 Summary
The summer 2019 exhibition, presented in the Great Apartments of the Palace of Monaco and dedicated to the first meeting of the American actress Grace Kelly and Prince Rainier III chick took place on May 6, 1955, is transposed in a notebook of fifty pages and abundantly illustrated. This exhibition has been designed by the Archives and Library service of the Princely Palace and the audiovisual institute of Monaco.
The medieval era is evoked through a specific episode in the History of Monaco: the sale and purchase of the Grimaldi lordship to the dolphin of France, in the context of the expansionist actions of tis big neighbors: Genoa, Savoy and Milan.
As an Art-lover Prince, Honoré II greatly built the collections of the Palace in the seventeenth century. As part of the study program about former princely art collections, which started several years ago, the Prince's liking for painting is analyzed through his personal correspondence.
Another study about art History is dedicated to the Fabergé egg which joined the Princely collections in 1974. This masterpiece of goldsmithing and watchmaking found its place in the official chronology of imperial and pendulum eggs.
Contemporary history is in the spotlight with several subjects: the history of the cemetery of Monaco, from its origin in 1868 to the present day, in the context of the evolution of mentalities and mortuary customs; the role of Prince Albert I in scientific relations between research centers on the coast and the "seabeds" of Villefranche and Monaco at the end of the 19th century and the beginning of the 20th century; the life of Robert W. Service, a Scottish writer famous in the English-speaking world and author of the novel The Poisoned Paradise. A Romance of Monte-Carlo, published in 1922, which depicts a fantasized portrait of Monaco in the "Roaring Twenties"; as Prince's Rainier III advisor in 1965-1967, Claude de Kémoularia played an important role in the outcome of the crisis between the Monegasque State and Aristotle Onassis; Relying on the advisor's personal archives, an article reviews this episode and decodes the government machineries of the principality in the 1960s.
Read more
Réduire
Security policy
Delivery policy